This article is shares 3 ways a company secretary can take an integrated ESG approach with information from the following Diligent Down to Earth ESG (Environmental, Social and Governance) white paper. You can download the complete white paper on their website here.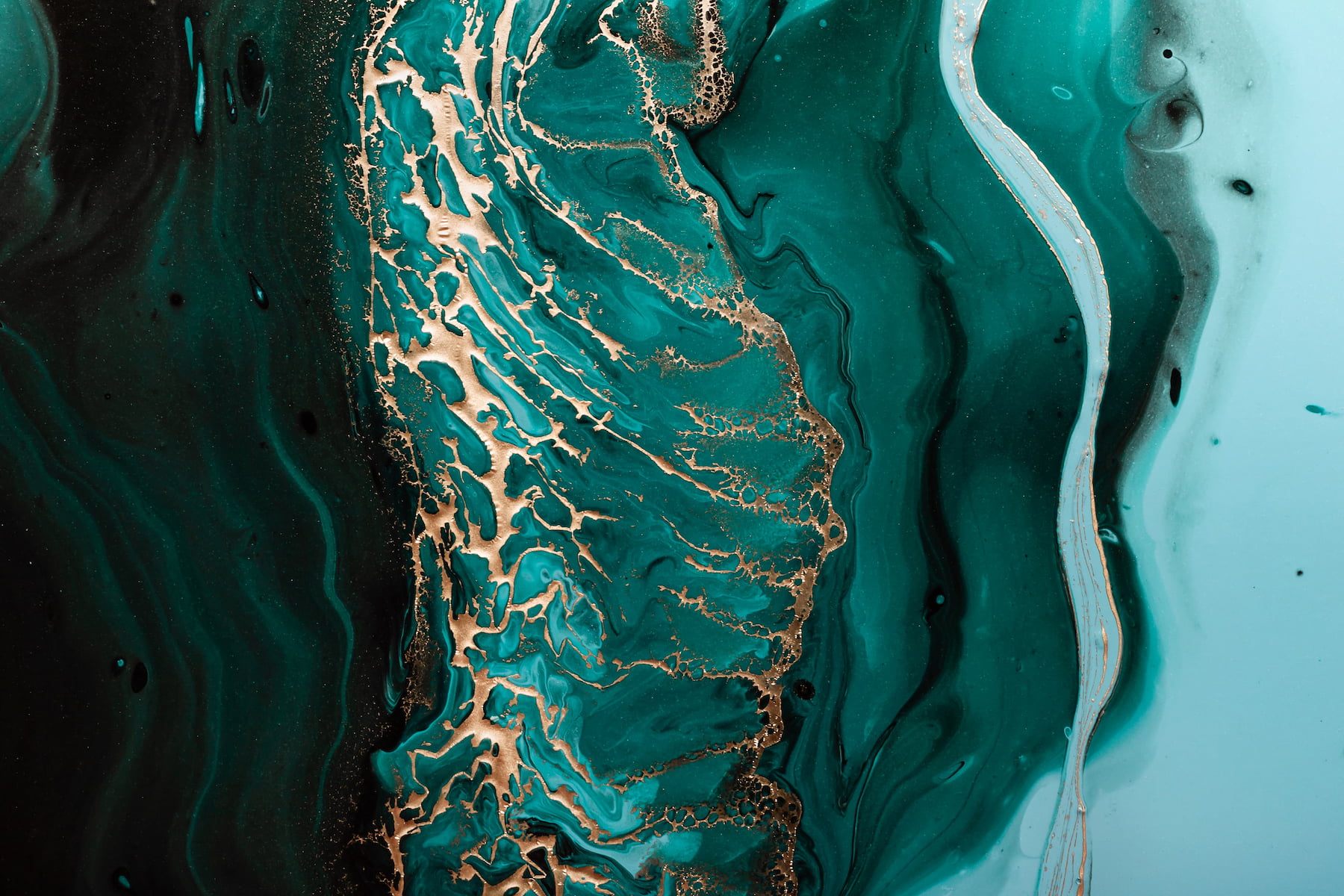 THIS ARTICLE'S KEY TAKEAWAYS ARE:
Strong ESG performance is consistently associated with higher returns and robust risk management.
Purpose: Connect ESG with the organisation's strategy culture and culture.
People: Connect functions and stakeholders to build collaboration.
Process: Connect data and insights to guide ESG action at every level.
BENEFITS OF A COMPANY SECRETARY INTEGRATED ESG APPROACH
A company secretary in Australia should be ESG driven as organisations with a strong ESG performance are consistently associated with higher returns and robust risk management. The benefits of an integrated approach to ESG are numerous, including:
Enhance ESG performance and reporting
Improve efficiency and compliance
Strengthen reputation and build trust
Increase competitiveness and differentiation
Attract new talent and engage employees
Better cross-functional alignment and collaboration
Increase long-term organisational resilience.
View the ASX 200 ESG data for FY21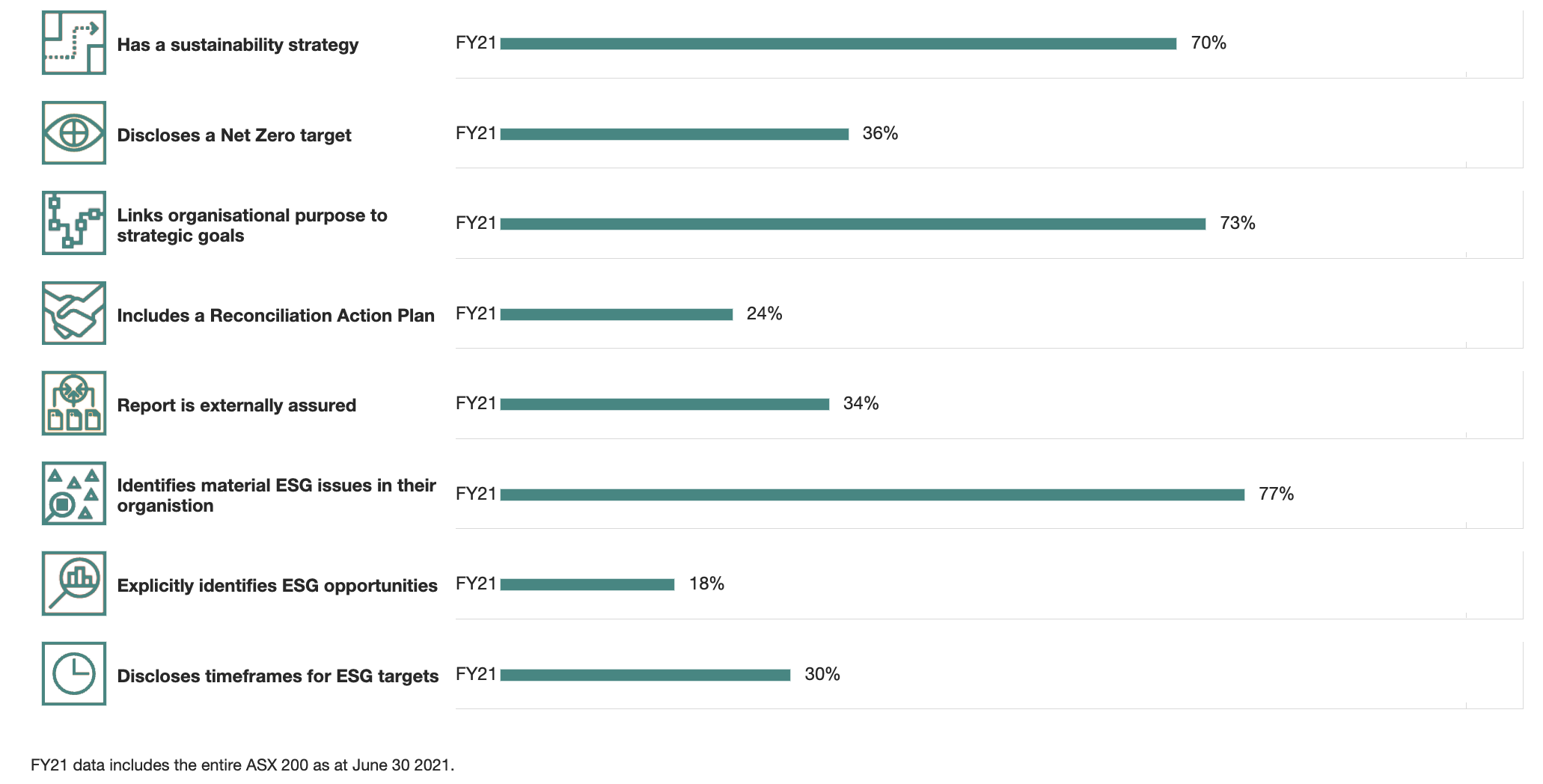 – Source: 'PwC – ESG reporting in Australia' & full PDF report here
COMPANY SECRETARY ROLE IN CREATING CONNECTIONS
Company secretary duties should include integrating ESG across the organisation. As it amplifies its impact and elevates maturity, helping meet external expectations.

– Source: 'Down to Earth ESG'
CONNECT PURPOSE AND SUPPORT ACCOUNTABILITY
Incorporating ESG into the organisation's strategy and culture are part of company secretary responsibilities
A clear understanding of how ESG contributes to the organisation's overall strategy is essential for it to cascade into detailed plans, actions and KPIs. Without the board and senior executives setting this foundation, ESG is likely to be a box-ticking exercise.
Leaders need to share a clear vision that establishes why ESG is everybody's business. People increasingly expect boards and CEOs to lead the way on wider sustainability and social responsibility issues.
Here are the key ways to incorporate ESG into the organisations strategy and culture:
Elevate the issues – listen to stakeholder concerns
Move from goals to plans – committing to change is the first step, achieving them is the next
Demonstrate leadership – courageous leaders embrace change and learn from what doesn't work
Generate momentum – ESG is a moving target that requires consistent efforts
Align incentives to reward progress – remuneration frameworks increasingly recognise that how things are done matters as much as what is done
PEOPLE FUNCTION IN YOUR ESG APPROACH
Connect functions and stakeholders to build collaboration
Organisations need to show they care about their impact, not just their bottom line, for ESG strategies to succeed. It involves strong engagement across a diverse range of people, respecting their perspectives and priorities.
ESG teams play a central role in transforming their function from a compliance-focused cost centre to collaborative commercial partners who have their pulse on opportunities for change.
Here are the key ways to connect functions to build collaboration:
Bridge the gap – share information
Stay up to date – monitor local changes and global trends
Go beyond boundaries – ESG extends outside the organisational structure
Share feedback – promote a growth mindset and consistent improvement
Learn from other core support functions – finance, legal, people and culture
PROCESS ORIENTED ESG APPROACH
Connect data and insights to guide ESG action at every level
ESG extends across the whole organisation. From action to analysis, it involves people and data from every function.
Collecting the data to track progress and produce reports can quickly escalate into an ongoing cycle of project management and information updates. Add in the pressure of regulatory developments and team changes and the frustration grows.
The more time people spend gathering data and preparing reports, the less time they have left to complete the activities the reports cover. ESG systems have the potential to free people up to make a bigger impact.
Here are the key ways to connect data and insights to guide ESG action at every level:
Leverage systems to boost efficiency – integrated ESG systems reduce routine data collection and reporting
Strengthen consistency – if teams don't have consistency in data collection and transparency, then data loses integrity
Factor in flexibility – organisations need a flexible approach as ESG obligations differ depending on their size, industry, location and ownership
Connect insight to action – integrated ESG systems can help people avoid drowning in detail and home in on key areas for action
Benchmark performance – if organisations aren't comparing their ESG performance against their peers, they risk being surprised by stakeholders' evaluations.
Our article's information is a summary of Diligent's Down to Earth ESG white paper. If you'd like to continue reading the full report. Download it here.
GREENFIELDS RECRUITMENT & SEARCH is a specialist In-House Legal Counsel, Company Secretary and Corporate Governance Executive Search & Recruitment firm. We connect company secretary leaders with organisations who require company secretary services. Partnering with a diverse range of clients, from ASX listed organisations, non-listed organisations, multinationals, boutiques and not-for-profits across all industry sectors. Learn more about us here.